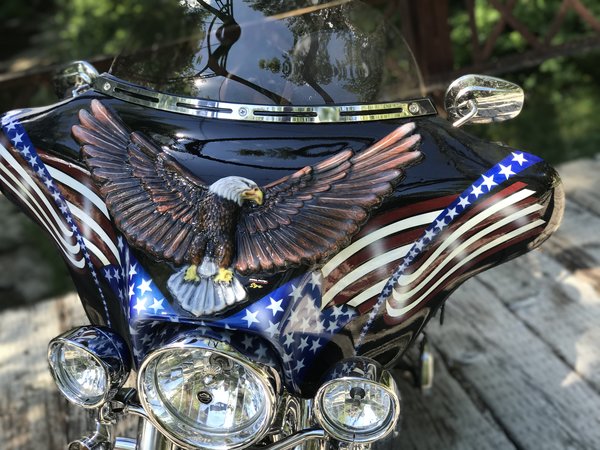 This majestic patriotic Eagle fairing resonates the freedom that you get when you're out on the open road. Being free as a bird, enjoying the beautiful countryside that's what biking is all about. Catch the feeling and you'll want to fly off on a road trip with your biker buddies today!
FAIRING ART IS UNPAINTED, YOU CAN HAVE YOUR LOCAL ARTIST PAINT THEM TO MATCH YOUR BIKE
FAIRINGS WILL FIT THESE SOFTAIL HARLEY DAVIDSON MODELS: HERITAGE, DELUXE, AND FAT BOY
OUR FAIRINGS ARE WIDE OPEN PLASTIC FAIRINGS WHICH INCLUDES AN AUDIO SYSTEM THAT DELIVERS CLEAR STRONG SOUNDS.
THE STOCK SYSTEM IS A

JVC KD-X200 DIGITAL MEDIA PLAYER, AM/FM TUNER, FRONT USB PORT, FRONT & REAR AUX INPUTS (50X4)
NOTE: CD PLAYER WILL SKIP DUE TO THE ANGLE OF THE STEREO IN THE FAIRING AND VIBRATIONS OF THE MOTORCYCLE
FREE SHIPPING TO LOWER 48 STATES ONLY!